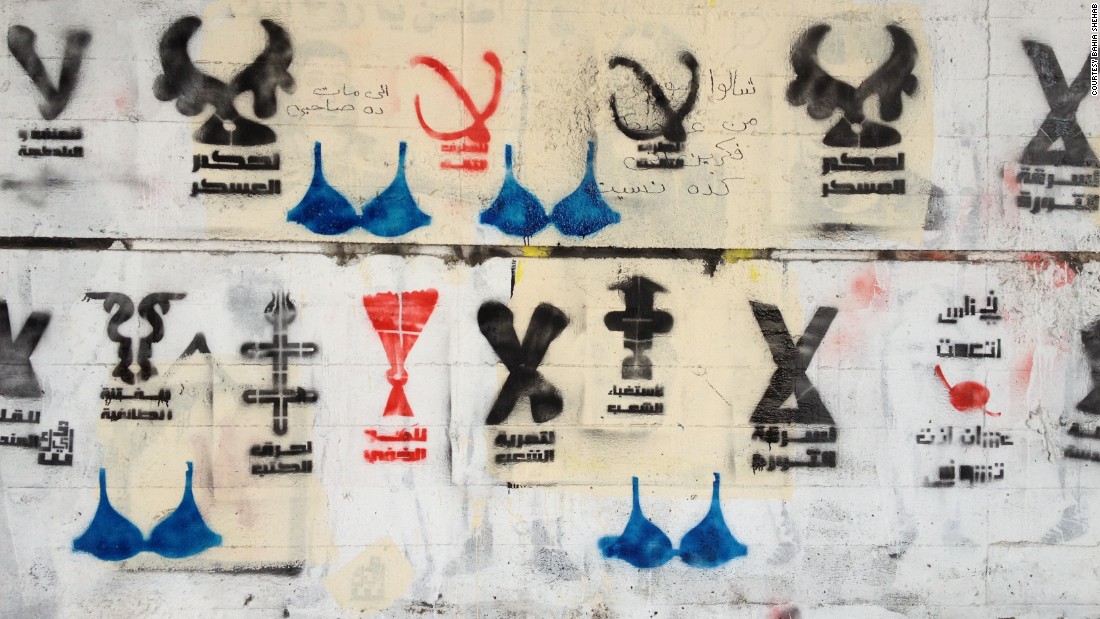 (CNN)In 2011, when the revolution swept through Egypt, Bahia Shehab stood on the streets of Cairo with a spray-can in her hand determined to deliver one message: No. A thousand times no.
No to military rule. No to violence. No to dictatorship. And no to beating women.
On walls across Cairo she spray painted a series of quotes objecting Egyptian authorities.
The Egyptian artist, designer and Islamic art historian became interested by how the word "no" is portrayed in Arabic calligraphy in 2010 when she was invited by theKhatt Foundation to participate in an exhibition commemorating 100 years of Arabic art in Europe.
She created a series of graffiti images that were inspired by 1,000 different ways "no" — which is written as " in Arabic — had been stylized.
Established in 1998, the prize rewards two laureates each year who have used their work to "disseminate a greater knowledge of Arab art and culture." The other winner this year is French artist eL Seed.
Its international jury says Shehab's street art "plays as a fresh tool for the young to build networks for active change and to voice their objections."
Prior to the award ceremony, CNN caught up with Shehab.
What inspired your project "No, A Thousand Times No"?
I looked through a very big database (of) material to come up with a thousand nos. I looked through museum archives, buildings, books, materials from different places around the world to be able to collect that data. It took me a year.
It was actually surprising. I thought it was going to be really difficult to find a 1,000 (nos) in different forms, but then you stop at 1,000 and then you're surprised that there's so much more — and this is what was amazing for me.
Can you remember the first time you spray-painted in the streets of Cairo?
It was one of the best moments of my life. It's still vivid now in my head. It felt so liberating. I felt like I was actually screaming.
I really admire these strong women who would stand in rallies and raise their call and be the first ones to call. I was so jealous because I could never do that and then I had the spray can and I said "Yes! This is my place, this is my medium."
(It) was extremely liberating as a form of expression.
For somebody who doesn't have a very loud voice, my voice was my spray can.
How does it feel to win the UNESCO-Sharjah Prize for Arab Culture?
I didn't think ("No, A Thousand Times No") would get me a UNESCO prize, I wasn't expecting that.
(The work) was important to me as a cultural bank … and it made me feel very proud of my heritage. (But) I feel like we still have a lot of work to do. I am honored, of course, but what I'm really happy about is that they're honoring street art and I'm receiving it with a very, very dear friend of mine, eL Seed (which) is an even a greater honor as we both work on the street.
It's a form of recognition of street art in the Arab world as an important art form.
What do you say to people or governments who try to prevent you spray painting?
We are finding other outlets. If Cairo is not my canvas, then the world is. There are other cities that will welcome my message (and) we have the internet now — the physical space is no longer important.
When I don't get a visa, I go on Skype and I give my presentations and the idea gets there. I don't need to physically be in a place anymore.
What are you working on?
I am still painting in different cities. I'm painting poetry and I think this is what's helping me deal with our current situation. Many activists are either in prison or exile or they've committed suicide and this is unfortunately the state of events. So for me to deal with the trauma of our current state I paint words all around the world, of poetry (and) of our dreams.
What walls have you painted?
The first wall I painted was in Vancouver and (the text is) all by the same Palestinian poet, Mahmoud Darwish, and says "stand at the corner of the dream and fight" and then I painted in New York, Madison, in Marrakesh, Tokyo, Istanbul and Beirut and each poem has a different message — either related to the city where I'm painting or just about the state of the Arab world, in general.
For example on Kefalonia — the Greek island — I painted for the refugee crises of the people who are drowning and I painted the poem "Those Who Have No Land Have No Feet."
So each poem is also a bit site specific.
The above interview has been edited for brevity.
Read more: http://www.cnn.com/2017/04/17/arts/bahia-shehab-arabic-thousand-times-no-unesco/index.html