The revered producer has been at the centre of pop since the days of Roxy Music. But dont ask him about the past hes more interested in how to reorder society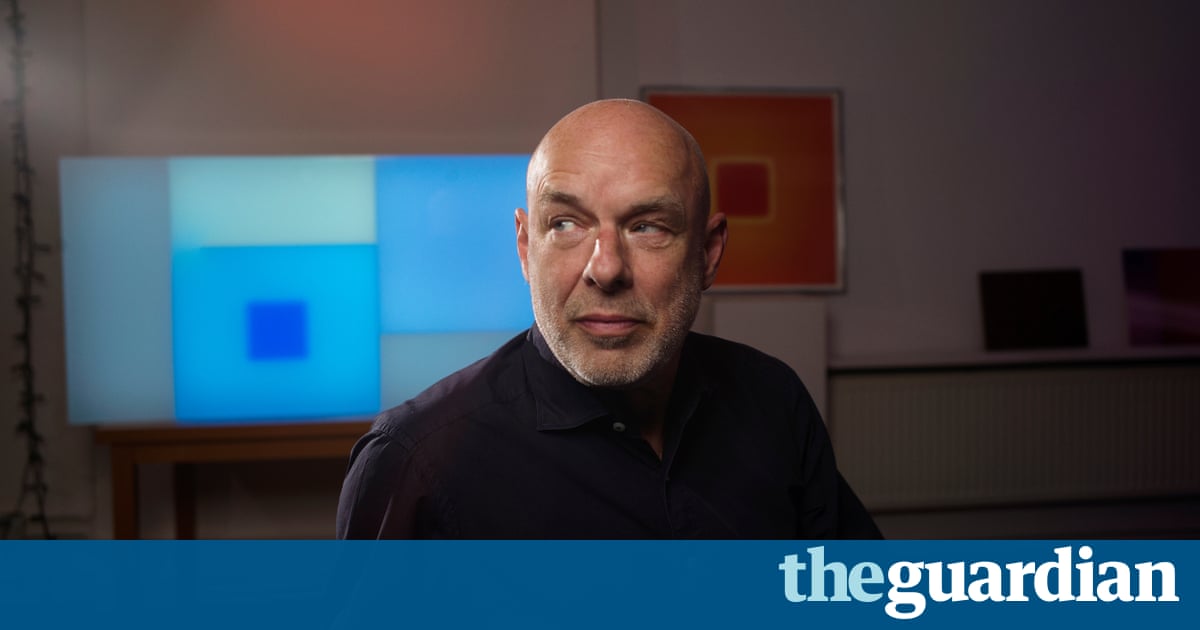 Brian Enos new album is called Reflection, and what better time to reflect on an astonishing career? Or careers. Theres the first incarnation of Eno as the leopardskin-shirted synth-twiddler who overshadowed the more obviously mannered Bryan Ferry in Roxy Music. With his shoulder-length hair and androgynous beauty, there was something otherworldly about Eno. He was as preposterous as he was cool. So cool that, back then, he didnt bother with a first name.
After two wonderfully adventurous albums he left and Roxy became more conventional. There followed a sustained solo career, starting with the more poppy Here Come the Warm Jets, progressing to the defiant obscurity of his ambient albums and on to commercial Eno, the revered producer behind many of the great Bowie, Talking Heads, U2 and Coldplay records.
There is Eno the visionary, who helped conceive a 10,000-year clock and invented an influential pack of cards called Oblique Strategies that offer creative solutions for people inapickle. There is Eno the visual artist;Eno the activist, tirelessly campaigning for a fairer world; and Eno the philosopher, endlessly thinking of ways in which to bring thisnew world about.
We meet at his studio, near Notting Hill in west London. It is a mix of the minimalist and maximalist. Minimalist in its big white empty spaces, maximalist in the numerous books carefully filed away (library-like sections for African, Asian and European art), old-fashioned hi-fi equipment, a parked bike, and his own Rothko-ish artworks.
Eno, now 68, could not look more different from the louche glamour-puss of the early 70s. As his music became more pared down, so did he. The head was shaved, the makeup washed off and the feather boa dispensed with. Nowadays, he looks like a stylish academic.
His assistant asks me to join Eno athis table. Ill just be 40 seconds, finishing off my lunch, Eno says. He takes a mouthful of fruit salad. Just 30seconds now. There has always been something fastidious about him. His interviews tend to be 45 minutes long precisely. One journalist said that Eno had interrupted their chat to play him an Elvis Presley record that lasted two minutes and seven seconds, and then added two minutes and seven seconds to the interview sothe journalist wouldnt be shortchanged. At the same time, Eno loves to embrace the random. As a producer, he encourages artists to pick up Oblique Strategies cards to alter the path they are taking. Itell him I have brought a pack with me in case we find ourselves struggling. He smiles, flashing a gold tooth. That will be just the job, I should think, he says.
Read more: https://www.theguardian.com/music/2017/jan/23/brian-eno-not-interested-in-talking-about-me-reflection