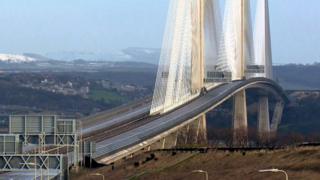 The Queensferry Crossing has been closed for the first time since it opened in 2017 after ice and snow fell from cables on to vehicles below.
The bridge connecting Edinburgh and Fife was shut on Monday night and will remain closed on Wednesday, the Scottish government said.
Eight vehicles were damaged before the bridge was closed on safety grounds.
It has led to lengthy tailbacks as drivers take a 35-mile diversion, crossing the Kincardine Bridge.
Wintry weather is continuing to affect Scotland, with an amber warning for snow now issued by the Met Office.
The £1.35bn Queensferry Crossing, which opened to traffic in August 2017, was expected to remain open in all weathers.
It was fitted with 3.5m (11ft) high barriers designed to ensure the bridge would not be closed by high winds.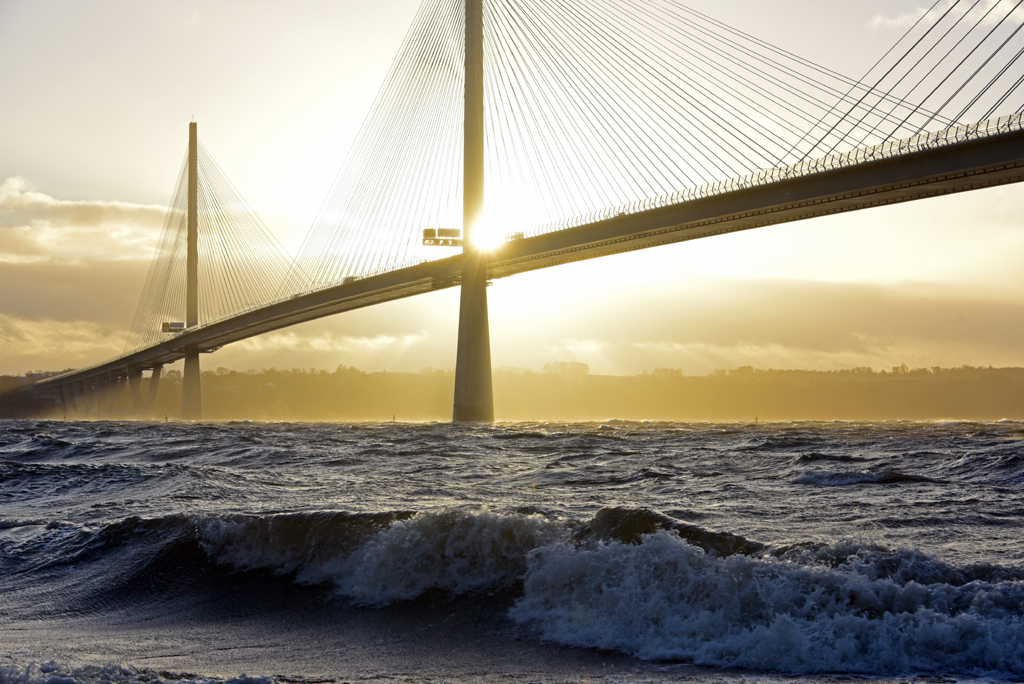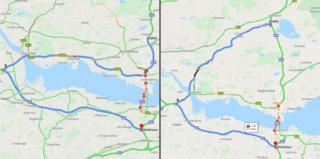 Image copyright
Google
Image caption
Engineers are currently monitoring the ice build-up and a further update will be given on Wednesday.
Mark Arndt, from Amey, told BBC Radio's Scotland's Good Morning Scotland programme that the closure had been forced by a "unique set of weather conditions".
"We had a combination of strong westerly winds… a mixture of snow and sleet that resulted in snow accumulations on the main cables of the Queensferry Crossing," he said.
"At an elevated height, that snow accumulation became chilled. It accumulated in a reasonable size and fell to the carriageway.
"It was on the grounds of safety that we took the decision to close the bridge."
He said he was not aware of any major injuries caused by the falling snow and ice.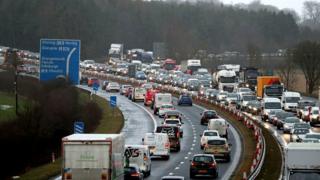 Image caption
There are two diversion routes via the Kincardine Bridge that add an extra 35 miles (56km) onto drivers' journeys.
Traffic Scotland said the diversion was causing delays of up to an hour, though some drivers earlier said their journey times were 90 minutes longer than usual.
ScotRail said it was running extra train services across the Forth Bridge and there are additional buses over the Forth Road Bridge.
---
Cars 'swerving' to avoid ice and snow falling from bridge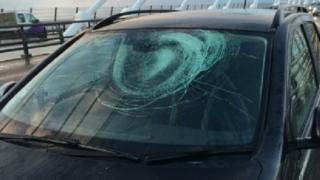 Image caption
JP Ward's car was hit by falling snow and ice on Monday.
He was driving across the bridge from Dalgety Bay, Fife, at 17:55 in "horrible weather", with "wind from left to right, blizzards, [and] spray on the road".
"I saw big white blocks falling from the bridge, thinking it was snow," he said. "A few cars were swerving to miss them and hitting the brakes, causing potential accidents."
He added: "At this point I saw several pieces falling across the three lanes. The blocks were ranging from [the size of] small coffee tables to footballs, but they were as thick as phone books."
Mr Ward's car roof was then hit by what he described as an "ice block". It "sounded like [a] loud thundering bang", "causing me to swerve".
The teacher said he "spent the next hundred metres dodging ice and avoiding cars".
"In my view, the bridge should have been closed hours earlier and I am glad to be [in] one piece.
"My teaching colleagues said that they had been on the bridge just an hour earlier and saw four cars in the hard shoulder after being hit and had to slam on their brakes to avoid collisions."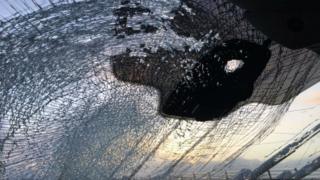 Image caption
Kenneth Pitt, 64, was a passenger in his colleague's van on Monday evening when the windscreen was smashed by falling ice.
The pair were coming home from work in Rosyth when the incident happened, which caused damage to the wing mirror as well as the windscreen.
They saw three other vehicles on the hard shoulder which had been damaged by falling ice.
Their usual commute from South Queensferry takes about 15 minutes, but this morning the diversion via Kincardine took Mr Pitt more than an hour on the bus.
---
Sensors are due to be fitted to the bridge this year that will give an earlier warning of ice build-up on the bridge structure.
The Met Office has issued an amber weather warning for southern Scotland of heavy snow showers for Tuesday afternoon and into the evening.
Snow showers were expected to become "frequent and heavy" over much of Dumfries and Galloway, the Borders and into South Lanarkshire and East Ayrshire.
A yellow weather warning for wind and snow is in place for much of the rest of Scotland until midnight on Tuesday.