Justin Bieber has a message for the tabloids and fans: don't read into his Instagram posts.
The pop star took to social media on Thursday to hit back at the Daily Telegraph for claiming that he had walked out on wife Hailey Bieber, who was pregnant with their child — two ridiculously false claims, according to the couple.
Mr. and Mrs. Bieber poked fun at the article in a video shared on his Instagram Stories. While Bieber roasted the publication for misspelling his last name in the headline, his not-pregnant wife sarcastically said in the background:
"How dare you walk out on me and my very pregnant belly… not."
Ha! Clearly, they're over people speculating about the state of their marriage.
Unfortunately for the couple, however, their attempts to set the record straight caused even more speculation — as some fans were convinced they saw ex Selena Gomez in Bieber's search history!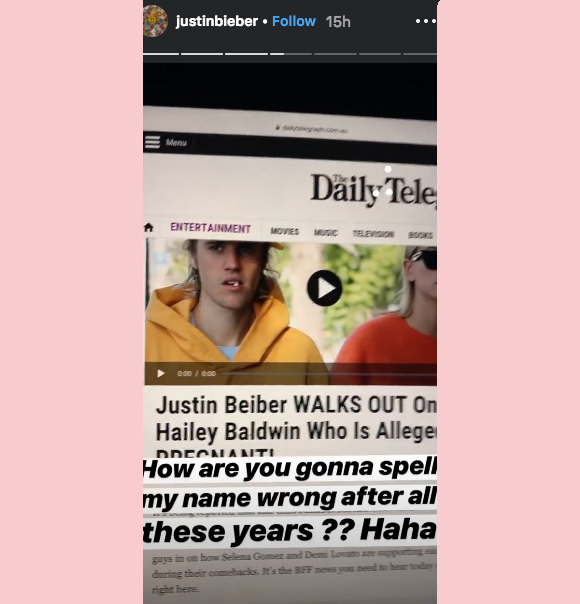 So, Biebs had more explaining to do. He later took to Instagram to clarify that Gomez's song with DJ Snake and Ozuna, Taki Taki, was on his computer only because a video of her Coachella performance played as a related video while he and Hailey were watching clips of his own Coachella performance from last weekend.
Insisting that he has better things to do than purposefully zoom out on his Instagram Stories in an effort to put Jelena speculation into overdrive, the 25-year-old performer told fans to stop "making something out of nothing." He pleaded:
"Please stop reading into things so much and making something out of nothing. The point of the video was supposed to be funny that they were saying I walked out on Hailey and they spelled my name wrong this idea that I secretly plot on opening my history thing purposefully and zoom out just enough so you can see her name is crazy."
Noting that he was nothing but happy that his ex performed at the music festival as well, the artist added in another comment:
"These are real lives you guys are talking about real emotions stop acting like you know anything about anything.. go to school read your books and focus on your own personal life."
In a third post, he added:
"People have their own fantasys [sic] about how they think my life should go and make up all of these theories and use their imagination too much.. this ends here will never re-engage with this but had to set the record straight once and for all. We are adults were [sic] not playing games. There always gonna be something."
See his frustrated comments (below):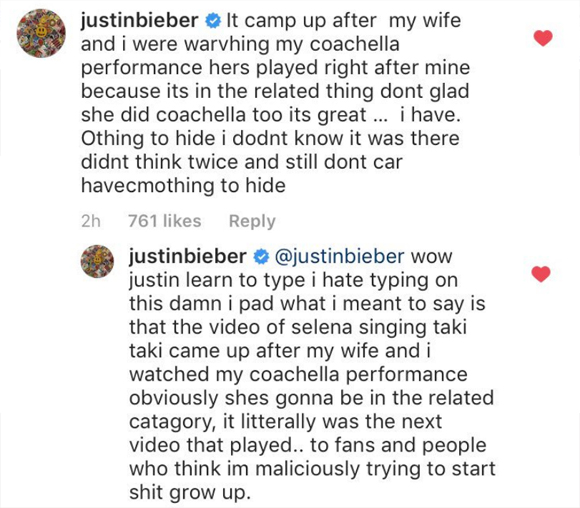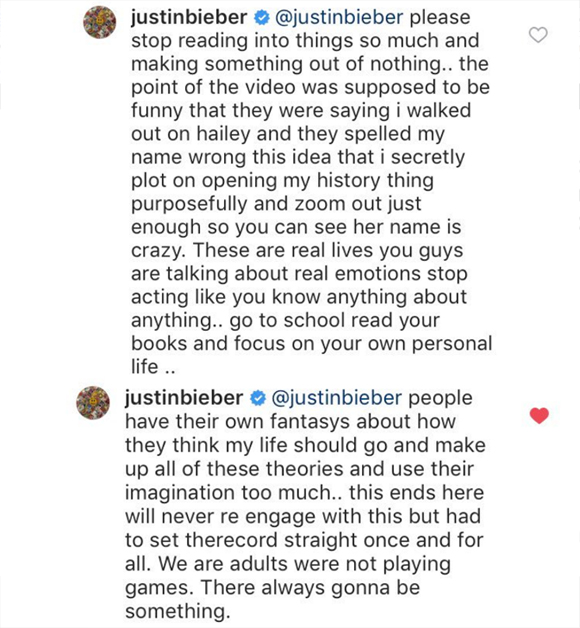 Mrs. Bieber also addressed the social media sleuths, writing in a since-deleted IG Story:
"You little internet kiddos need to learn how to move on for real… We're adults that have better things to do than waste time explaining something just so you can stop your delusional fantasies. I'm not going to sit here and let obsessive strangers try to tell me about my own husband, you wanna talk about somebodies [sic] husband then get ur own. G'night!!"
See (below):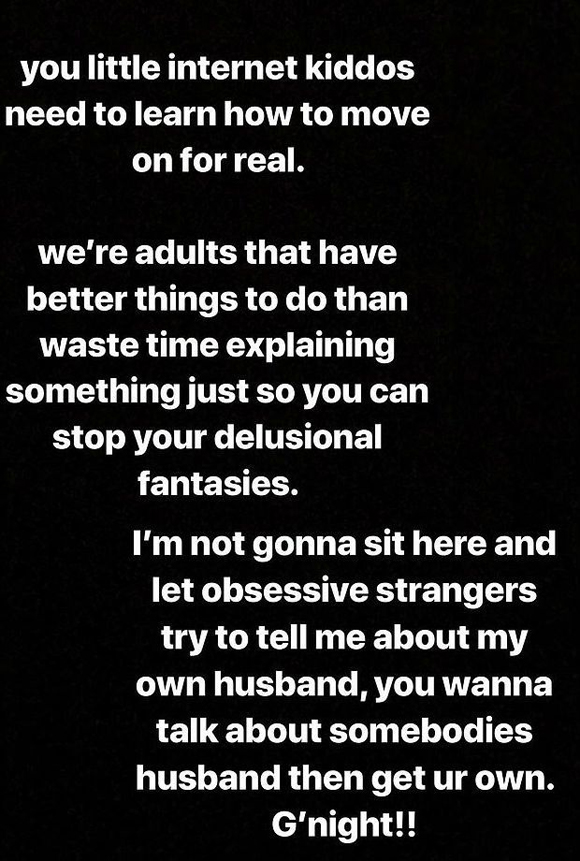 The model later added:
"Just a reminder: None of us have this thing called life figured out."
Well, there you have it. Justin Bieber does not sit around thinking of ways to make fans wonder about his current feelings toward Selena Gomez.
It just happens naturally!
[Image via WENN]
Read more: https://perezhilton.com/justin-hailey-bieber-pregnancy-rumors-selena-gomez/