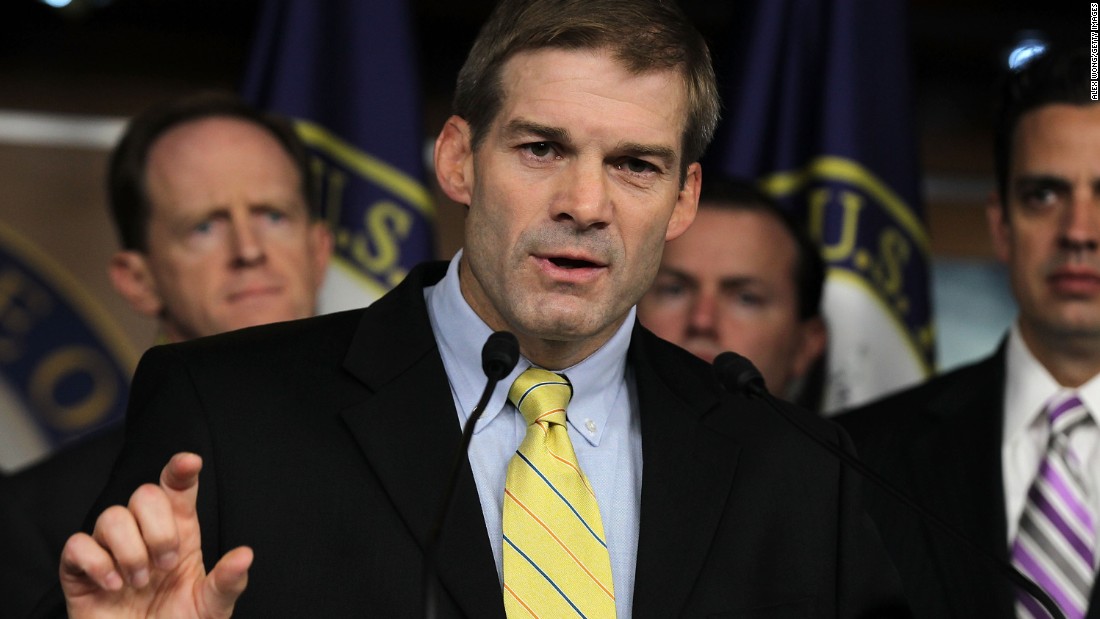 Fremont, Ohio (CNN)Ohio Republican Rep. Jim Jordan acknowledged protesters outside two events in his home district Monday — a break with many other Capitol Hill colleagues who have largely avoided such scenes — but was met with shouts of disapproval.
The Ohio Republican, a 10-year veteran of the House and one of its most ardent conservatives, spoke with what his staff and protesters estimated were upward of 150 demonstrators in Marion, Ohio, at the historic home of former President Warren G. Harding.
He then headed about an hour north where he talked briefly with a much smaller group of protesters at the Rutherford B. Hayes Presidential Library in Fremont, Ohio, before heading into a presidential trivia contest for children (which prompted his former Democratic opponent to claim he was using the kids as "human shields").
Jordan's tour of his sprawling Ohio district Monday showed the dilemma for lawmakers eyeing up a repeat of the tea party protests which swept Democrats out of power in Congress in 2010 — but with the fire and the threat coming from the left this time.
And it also shows how deep the anger has bled into staunchly conservative territory. Jordan beat his Democratic opponent 68%-32% last year and President Donald Trump won the district by a similar margin. The first hint of trouble for Republicans came two weeks ago, when Utah Republican Jason Chaffetz was confronted by hundreds of angry protesters at his town hall.
Since then, Republican lawmakers have canceled town halls, while others have split town entirely — heading on Congressional delegation trips to spots like the Mexican border and Europe. Meanwhile, some Republicans have fully embraced the fury: Rep. Mark Sanford huddled hundreds of protesters at his South Carolina town hall this past weekend, even walking outside to address an overflow crowd.
Jordan didn't give it the "Full Sanford" Monday, but he did attempt some outreach — with varying success.
"They may not agree with me, we may share different perspectives," Jordan said, as a group of protesters laughed outside the Hayes Library. ("No, we don't agree with you," yelled one woman, interrupting Jordan.)
"But they're allowed under the first amendment to speak up, and my job is to listen and tell them where I'm at," Jordan said, which resulted in one man mocking him: "Listen and give the party line, no real reasons, no in-depth analysis."
The sight of hundreds of protesters packed outside the Harding presidential home earlier in the day was compelling enough, Jordan said, for him to take questions from the angry crowd. But protesters claimed they had to force him to address them.
As Harding Home director Sherry Hall attempted to read through a history of Harding from the wraparound porch, with Jordan by her side, angry protesters chanted at the "Stop Reading!" and yelled "Hold a town hall!" according to video of the event taken by one group of protesters.
Senate Majority Leader Mitch McConnell implored his Republican colleagues last week to face protesters and address them (even though he isn't hosting any town halls himself — opting instead for a trio of closed-door fundraisers).
But the House of Representatives' chief security officer urged House lawmakers to coordinate police protection for their public events while they were back in their home states. (A pair of Fremont police cars pulled up to Jordan's second event, but the small number of police just watched while a few dozen protesters milled around outside.)
The showdowns are likely to be a common sight this week — with town halls in Arkansas, New Jersey and Florida acting like magnets for irate Democrats and even some independents who stayed out of politics until Trump took the White House.
Cheryl Laugherty, 62, a retired librarian from Fremont, Ohio, said she didn't get active in protesting until Trump emerged as a force last year. Since his election, she's been organizing with other women in northwest Ohio, and stood with a small group protesting Jordan in Fremont.
"It's been off and on through the years, but his (Trump's) behavior on the campaign trail this year just clinched it for me. I could not tolerate the way, like he made fun of the handicapped columnist, just things he said," Laugherty said. "And it hasn't changed, the belittling of people and the nicknames. It's juvenile. It's juvenile bullying."
Jordan said Monday that it's up to other Republicans to decide what they want to do, but suggested they honor the First Amendment and hear out the protesters. But Laugherty and others gathered outside the Hayes home Monday quickly pointed out that Jordan has yet to schedule any town halls himself.
Read more: http://www.cnn.com/2017/02/20/politics/jim-jordan-town-hall-protesters-democrats/index.html