Steve Sansweet, owner of Rancho Obi-Wan in California, asks collectors and fans to help recover items allegedly stolen by his friend of 20 years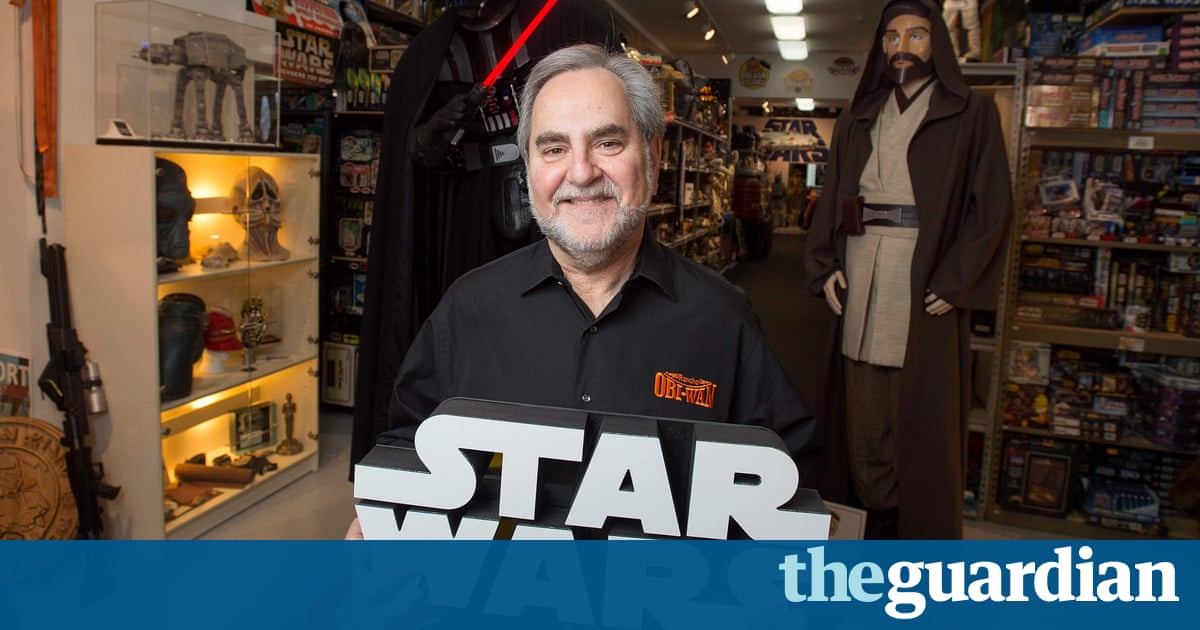 The owner of the worlds largest Star Wars memorabilia collection has learned a hard lesson about trust. On Monday, he told his own saga in which $200,000 in collectibles were allegedly stolen from his California museum by a man he once considered a friend and asked fellow movie fans for help in recovering them.
Steve Sansweet, the owner of Rancho Obi-Wan in Petaluma, California, said in a release to Star Wars fans and collectors that 100 items, which he referred to as vintage US and foreign carded action figures, many of them rare and important pieces, were pilfered from his collection between late 2015 through 2016, many of them resold.
He posted details of the crime on his website and asked fellow collectors and fans to email [email protected] with information.
The alleged culprit: Carl Edward Cunningham, 45 of Marietta, Georgia, a fellow Star Wars collector whom Sansweet has known for 20 years. Cunningham was arrested in March in Sonoma County, California, and charged with felony grand theft. He is free on $25,000 bail and a preliminary hearing is scheduled for 27 June.
Its devastating, Sansweet told the Guardian on Monday about when he learned a friend was charged with the thefts. Its a feeling of utter betrayal that someone could stoop to this level, an alleged friend and confidant, someone I had invited to my house and shared meals with.
Sansweet said he met Cunningham in 1996, while the museum proprietor was head of fan relations at Lucasfilm.
Since 1977, Sansweet has accumulated at least 350,000 franchise artifacts, stored inside a 9,000-sq-ft warehouse he calls Rancho Obi-Wan, located on a idyllic country lane an hour north of San Francisco. He has also written 18 Star Wars books and is listed in the Guinness Book of World Records as owning the worlds largest collection of Star Wars paraphernalia.
The theft came to light in February when Philip Wise, a major Star Wars collector, posted news of the theft of a rare action figure from his Texas warehouse. Another dealer from southern California informed Wise that he had purchased the figure from Cunningham, a Georgia collector, Sansweet wrote in his release to movie fans Monday.
The California dealer, Zach Tann, told Wise that he had bought many other Star Wars collectibles from Cunningham and sent a detailed list. Wise concluded that the quantity and quality of the items suggested they had been taken from Sansweets sprawling Ranch Obi-Wan museum.
He contacted Sansweet who confirmed that the items were missing, including a rare three-pack of figures and a store display worth $20,000.
When I saw the items missing, and considering the circumstances of the theft, my stomach physically sank, Sansweet said. I was queasy. I was dumbfounded,
Sansweet said authorities were trying to retrieve items that had been resold and implored Star Wars fans to report anything they knew about the thefts or sightings of the items. He said two fans have contacted authorities to say they bought some of the items from a legitimate dealer and have offered to return them, even if they do not get their money back.
Actor Mark Hamill, who played the character Luke Skywalker in the film franchise, tweeted Monday about the theft, saying: Maybe publish a list of stolen items to protect potential victims from purchasing hot merchandise.
Sansweet said the thefts ran contrary to the collegial spirit of Star Wars fans.
Weve had thousands of visitors since we became a nonprofit museum in 2011, he said. And never once to our knowledge have we had a single item stolen.
Sansweet said the museum had already upgraded security, but he refused to say that his trust in friendship had been ruined.
The message here is not to start mistrusting your friends, he said. Or youd be the most miserable person in the world.
Read more: https://www.theguardian.com/film/2017/jun/05/star-wars-biggest-collector-steve-sansweet-theft